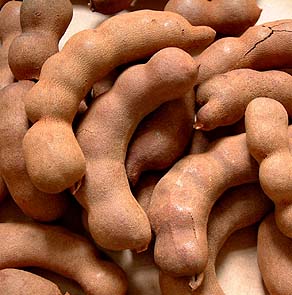 One of the great things about a cosmopolitan city like New York is that you can get the same foods you find at home, sometimes when they are out of season. So it was that I purchased a box of luscious tamarinds and some juicy pomegranates on a stop in an Asian market last evening. The place simply rocked with tropical fruits and foodstuffs from all parts of the globe. I spotted some hot tamarind balls, Jamaican mackerel in tomato sauce, scrumptious peppered shrimps and even some West Indian newspapers.

Usually I am able to pick tamarinds from the tree that droops over my wall and when that is laden I can get my fill from the fruits that turn the ground into a brown carpet. But the neighbour cut his tree so my supply has diminished somewhat yet that has not in any way affected my desire for this fruit which can range from an extremely sour to an unusually sweet taste.

For those of you who have not had the pleasure of sampling this tart fruit in a pod, you may not know that it is a main ingredient in Worcestershire sauce, that condiment that adds the "pick me up" to your recipes. Of course as I do in most cases, I enjoy the raw fruit. My son and I struggled to avoid finishing the pack last night. It was ssssooo good. Be careful though it is so acidic that over consumption can leave the tongue and roof of the mouth feeling sore. It can be enjoyed as a drink, a chutney, a sauce and as a candy rolled in sugar.
The leaves of the tree which can grow up to 20 metres are said to have medicinal qualities. I have known persons who swear that bathing in water boiled with tamarind leaves will reduce body pain, help to heal the blisters and fevers associated with chicken pox and measles.
I think I might grab another box as I won't be seeing the fruit until around spring next year.