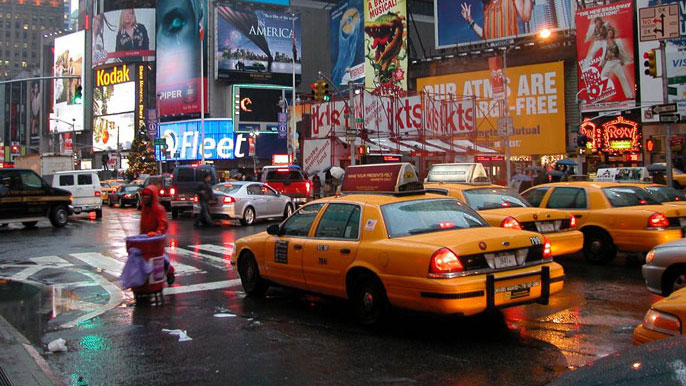 Having spent a little over a week in the North East United States (hence the hiatus) I'm back with flu like symptoms and not a little fatigue. I always enjoy visiting the States though as there is always so much to do.
I barely managed to spend time in New York City but Tuesday evening when I hit 34th Street at around 6pm the place was bustling with activity. All the way from 5th Avenue to around 8th Avenue there was none stop action. The Empire State Building stared down in all its majesty on the workers trekking home, the foreigners sight seeing, the sidewalk vendors hawking and of course the shoppers, shopping (window or otherwise). The smells of hot dog, pretzel, kebab and smoke permeated the air as I
strolled
hurried along in a bid to see everything there was to offer before I could eat a meal.
For dinner it was a toss up between a Chinese place which had a fast food aura and Macy's Cellar Bar & Grill where I could rest my feet in a more comfortable atmosphere. So I chose the Cellar where, by the way, they offer dinner for two starting at $24.50. I had Caesar Salad, shrimp and fries and dessert (key lime pie). Then it was off shopping in Macy's, where as a visitor I got an 11% discount card.
42nd Street was also magnificent with its huge buildings and their splendid facades. Madame Tussauds, the New York Public Library and Grand Central Station were some of the places that caused me to pause. But time would not permit anything but a cursory glance and of course I had to get to Barnes & Noble for my books and coffee fix! I had to drag myself out slightly before closing at 9pm. As always New York was exciting. As
Nathan Bransford
says, "Thank you New York!"
I'm looking forward to my return when I can explore a bit more and be more of a tourist. I made my way up to New Hampshire and the scenes were beautiful. I imagine that upstate New York must have equally stunning views too.
It was a CEOmum kind of trip though so I'll write more later on college applications, college visits and financial aid stuff that came to the fore in discussions with college advisors and others this past weekend.